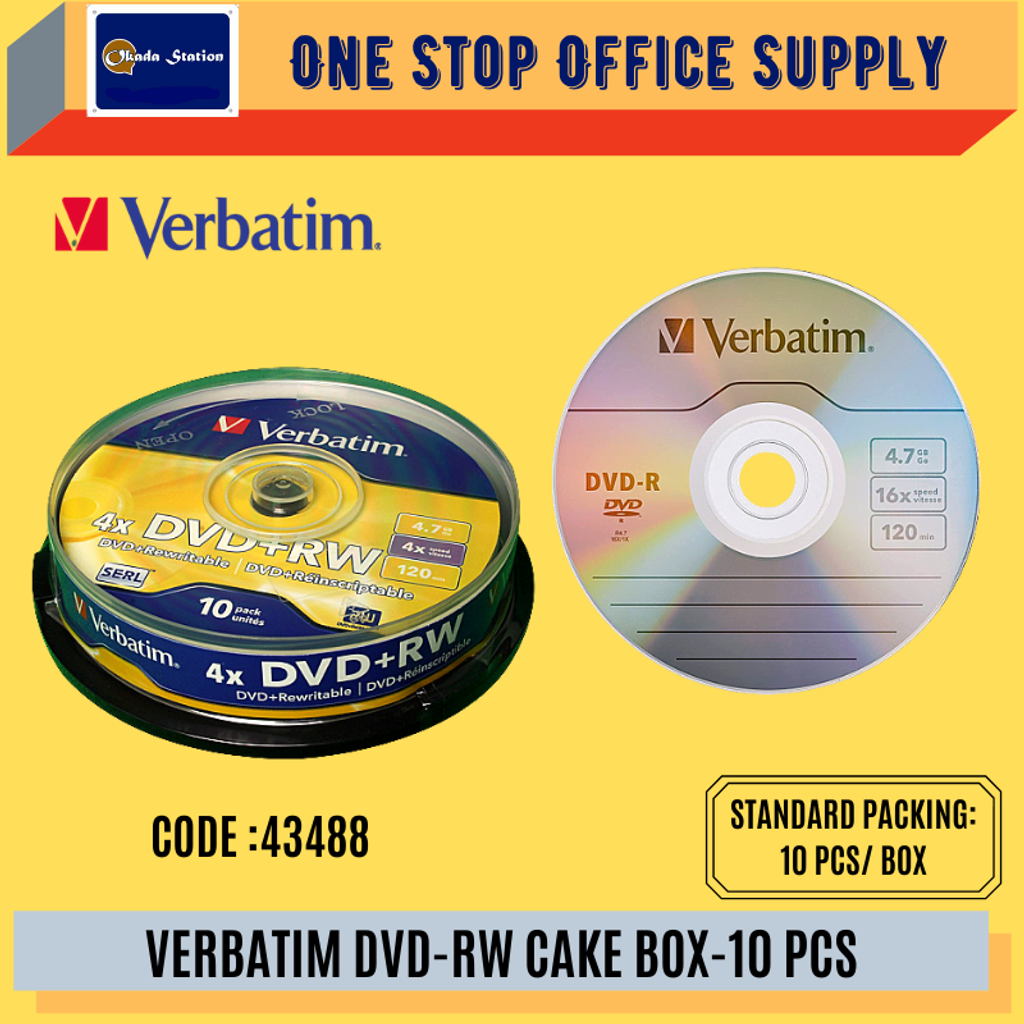 VERBATIM DVD+RW DISC -10 PCS / 43488 / DVD + RW / DVD /VERBATIM/ # 43488
DVD Re-Writable (DVD RW) discs are designed to store up to 4.7GB or 120 minutes of DVD-quality video. Unlike DVD-R's, you can add to or write over content on a DVD RW disc, making DVD Re-Writable discs ideal for backing up video and home movie collections.
Can I record over video/audio stored on a DVD RW disc?
Yes. DVD RW discs are single layer DVD discs that allow you to add to and back-up your data, music or video up to 1,000 times.
Are DVD-RW and DVD+RW discs interchangeable?
Almost all current DVD burners support both DVD-RW and DVD+RW discs, however, the supported burn speed may be different. In addition, Verbatim DVD+RW and DVD-RW discs are compatible with most DVD-ROM drives and writers from Sony, Dell, HP and others. To be ensure that you don't encounter compatibility issues, it is recommended that you purchase DVD RW media in the same format as your DVD-ROM drive. For example, if your drive is DVD+RW, then purchase media with the "plus" sign – DVD+RW.
Why choose Verbatim DVD RW media?
DVD drive manufacturers prefer Verbatim DVD RW media to the competition. All Verbatim DVD RW media utilize a Super Eutectic Recording Layer (SERL). This minimizes noise during write/re-write cycles, reducing playback errors and prolonging archival life.
Want to customize your DVD+RW using an inkjet printer?
Verbatim offers White Inkjet DVD+RW discs for use with your inkjet printer. These discs allow for high-quality, edge-to-edge printing directly to the disc. Our White Inkjet DVD+RW discs are qualified for use with inkjet disc printers from Primera, Microboards and Epson.
Brand: Verbatim
Type: DVD + RW (Rewritable)
Product Code: 43488
CD storage capacity: 4.7 GB
Quantity per pack: 10 pc(s). PRICE STATED IS FOR 10 PCS
CD write speed: 4x
Max. writing speed - 4 x120 min
*We Provide TENDER QUOTATION , SPECIAL ORDER for stationery & office furniture. For more information , please chart with us.